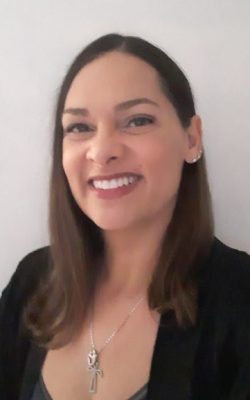 Brenda Martinez Richardson
MS, CRC, CVE, ICVE, IPEC
Clinical Director
Brenda Martinez Richardson began working in the rehabilitation field in 2011. She has a Master of Science degree in Rehabilitation Counseling and Case Management from Fort Valley State University, Fort Valley, Georgia. 
In addition, Brenda has earned her professional certifications as a Certified Rehabilitation Counselor (CRC), Certified Vocational Evaluation Specialist (CVE), International Certified Vocational Evaluator (ICVE), and International Psychometric Evaluator (IPEC). Brenda also obtained the Professional Vocational Evaluator (PVE) designation.
As Clinical Director, Ms. Martinez Richardson directs the work and conducts training programs for our Vocational Consultants, evaluates vocational services, and develops procedures to improve the quality of service. Brenda also provides vocational rehabilitation and vocational expert services including vocational evaluations, labor market surveys, transferable skills analysis, vocational testing, earning capacity, and job placement services.
Ms. Martinez Richardson is accepted as a Vocational Expert by the Social Security Administration Office of Hearing Operations, the Florida Office of the Judges of Compensation Claims, and the United States Department of Veterans Affairs. Approved as a vocational evaluator by the Florida Division of Vocational Rehabilitation she is also an approved provider of vocational rehabilitation services with the United States Department of Labor Office of Workers Compensation Programs. In addition, she is also an authorized provider of PGAP (Progressive Goal Attainment Program) services.
Brenda's presentations include SkillTran Methodology for Estimating Job Numbers and Social Security Administration Vocational Expert Testimony. Her article The Occupational Requirements Survey (ORS) was published in the VECAP Newsletter in July 2020.
In addition, Ms. Martinez Richardson serves various respected organizations. She is the Membership Chair of the Florida Chapter of the International Association of Rehabilitation Professionals. Brenda was the Central Florida District President of the Florida Chapter of the International Association of Rehabilitation Professionals from 2016 – 2019. She is also a member of the American Board of Vocational Experts, Vocational Evaluation and Career Assessment Professionals Association, College of Vocational Rehabilitation Professionals, National Rehabilitation Association, Florida Rehabilitation Association, American Counseling Association, American Rehabilitation Counseling Association, Florida Counseling Association, National Career Development Association, Florida Career Development Association, and Florida Bar Association Family Law Section.
Brenda is bilingual in English and Spanish. She provides services for cases in North America, Puerto Rico, and the U.S. Virgin Islands.
Certificates
• Certified Rehabilitation Counselor (CRC)
• Certified Vocational Evaluation Specialist (CVE)
• International Certified Vocational Evaluator (ICVE)
• International Psychometric Evaluation Certification (IPEC)
• Professional Vocational Evaluator (PVE)